How My Dog Found My Calling….
By: Jenni Madison
I often referred to my german shepherd Mocha as my angel dog. She had this way of walking upto the right dogs whose people I needed to speak to. Some of the highlights that manifested from these conversations included business contacts and opportunity, spontaneous healing and even an introduction to my husband!
When Mocha passed in 2015 she then showed me the greatest gift and life lesson of all. That all life is eternal and inter-connected. My longing and desire to connect with her opened me up to a world of intuition, empathy, telepathy, miracles, spirituality and the subtle voice of Nature. A world bound by love. A world so endearing and beautiful to me that I couldn't see life in the same way ever again.

What began as an emotionally driven curiosity turned into an obsession and my passion for inter-species and animal communication began. The path of learning this work is very much a process of unlearning. Ignorance, materialism, self-doubt and mistrust were conditions so ingrained in me that it wasn't until I was well into my case studies with Animal Talk Africa that I began to see and believe that this work is completely real. There is a world that thrives with and beyond our five senses. It is a world that our animals embrace naturally and many of them are calling us to join and unite with them in this way.
What inspired me even more than the very great benefits of animal communication, those that you and I are now aware of and experienced with (please also see client testimonials to learn more), is the difference that this expanded experience of empathic connection can bring to the entire Earth and her inhabitants. The more we can see and live our lives in the way that our animal friends do, intuitively, instinctively, lovingly and in perfect balance with the Laws of Nature, just to name a few, the more respect for this sacred gift of life we will have and the more harmony we will create.
We share this Earth with an enormous variety of beings, furry, feathery, scaly, buzzy, slimey, four-legged, two-legged, no-legged etc. And we are here to co-habitat not to destroy and self serve. Imagine if humans would wake up to this!
I founded Coconut Magic in 20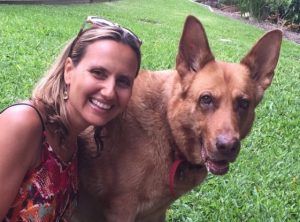 11 and have spent the last six years spreading the good word and health benefits of organic coconut oil, coconut products and plant-based living. I have loved every piece of this journey, the highs and the lows have taught me to push through the tough times and have faith. I have always cared for animals and thought that by living and promoting a vegan lifestyle I was helping. I am sure I was in many ways, but this work, animal and inter-species communication, expanding awareness, empathy and connection, I feel can now contribute on a whole new level!
Thanks to Mocha, my work with the animals and intuitive communication is a call so loud I must now make the change from Coconuts to Animal Communication. My husband Andrew who joined Coconut Magic over two years ago will continue the business so I can step aside and pursue this work with Nature's Heart full-time.
I will be sharing more of my learnings and research at the Healthy Holistic Animals Online Webinar coming up in mid January 2017. If you have missed this is will also be available for download.
I'd love to hear from you so if you have any questions or comments please shoot me an email jenni@naturesheart.org
Much love to you, yours and your animal family,
Jenni xo